McClure makes full circle to Fayetteville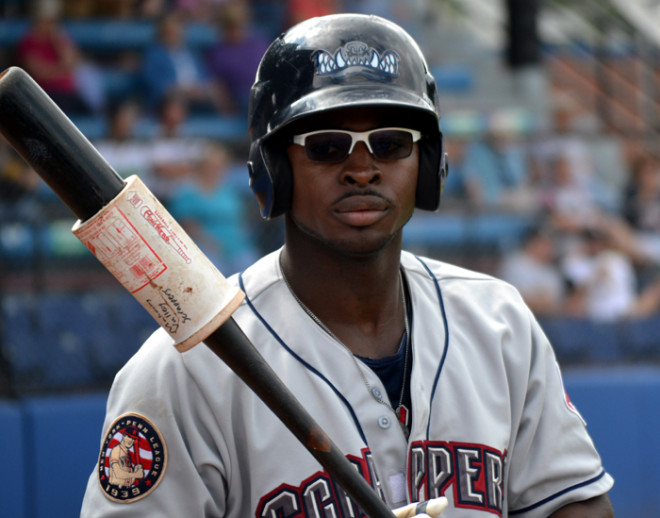 After spending the last four years playing minor league baseball, Jacksonville (Ark.) native D'Vone McClure is ready to make his next move and join Arkansas' football team this summer.
McClure, 6-3, 195, signed with Arkansas' baseball program out of Jacksonville High in 2012 but chose to go the pro route after the Cleveland Indians selected him in the fourth round of the MLB Draft.
His initial contract with the Indians included a $765,000 signing bonus and the incentive of having his college paid for after he was done with baseball. McClure will now put that to use in becoming a walk-on wide receiver at Arkansas, where he will have immediate eligibility and five years to play four seasons.
McClure, now 22 years old, made an unofficial visit in Fayetteville last week and returned for another visit on this weekend. Arizona offered him a spot on the 2-deep earlier this week, but he instead chose the home state Razorbacks.
He is close friends with current Arkansas defensive back Kevin Richardson, who he played with at Jacksonville High.
"I was the quarterback throwing him the ball some, but we were also both receivers, and to work with him again is something I've looked forward to for a long time," Richardson said. "I've been talking to him ever since I found out that he had gotten cut from his team and still had eligibility left. I just wanted him to get up here."
Richardson, who walked on to the University of Arkansas before earning a full-ride scholarship last summer, said he wasn't surprised by McClure's decision to give pro baseball a shot out of high school.
"That's something I wouldn't be able to turn down either," he said. "To be able to go do one of your dreams -- obviously he loves football, but going to the MLB is somebody's dream. It's the same thing with football; it's our dream to go to the NFL. He can pursue that now if he wants to."
McClure hit .219 during his four-year minor league career before being released by the Indians on April 4.
The Razorbacks currently boast one of the SEC's deepest and most productive groups of wide receivers as they return all five of their top targets from 2015.
**Special thanks to Malcolm Macmillan of TheBallParkGuide.com for contributing photos for this story.